Manga: Game 003
| 死活の急所 | Matters of Life and Death |
| --- | --- |
死活の急所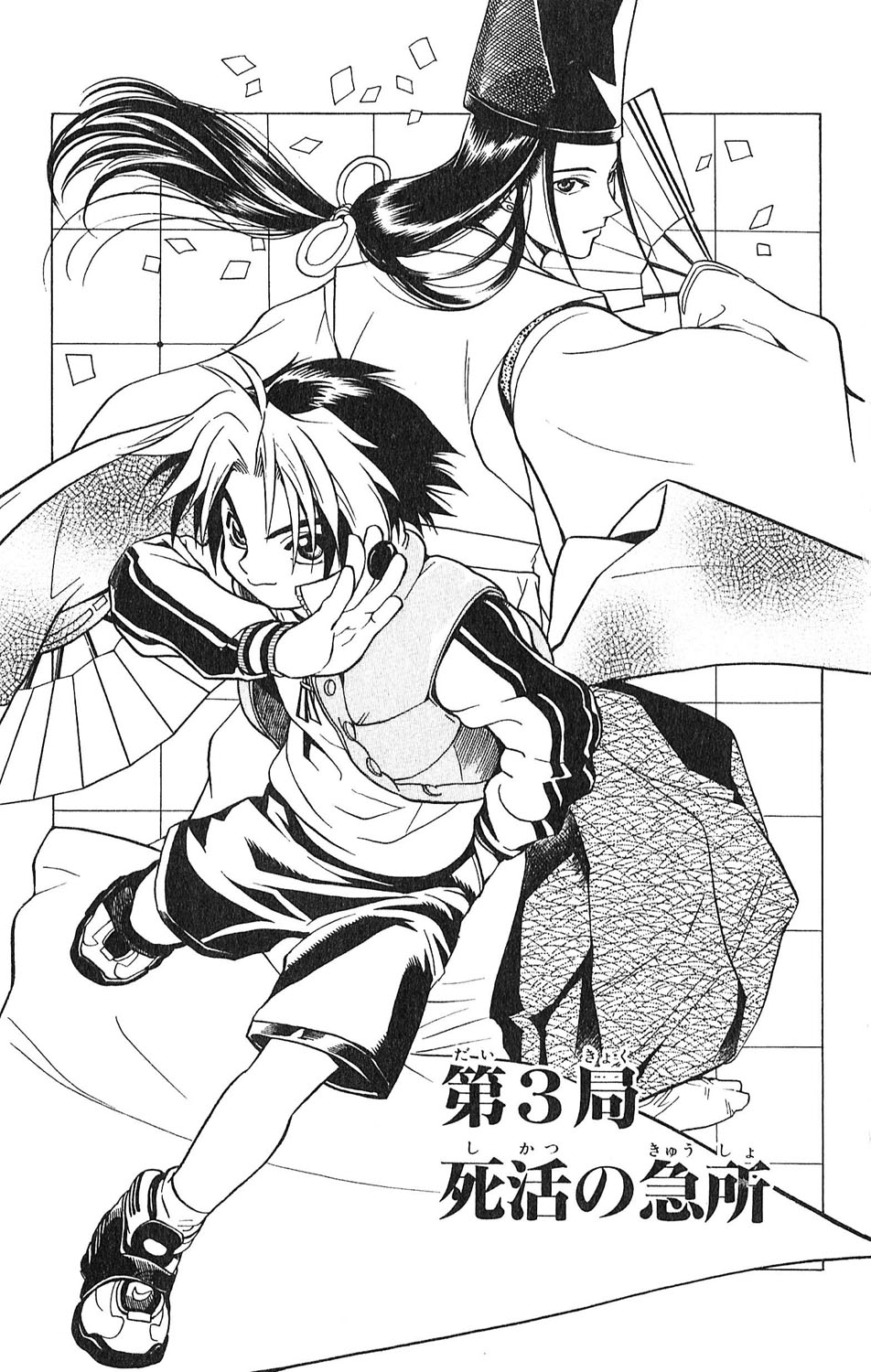 Title (Romaji)
Shikatsu no Kyuusho
Title (Viz)
Matters of Life and Death
Title (Tonkam)
Le point vital
Page Count
23 pages
Weekly Shounen Jump
1999 No. 6
Collected Releases
Tankoubon:
01
Kanzenban:
01
Bunko:
01
Transcript
This chapter takes place in December of 1998 and on January 3rd of 1999.
Material from this chapter was adapted into the anime episode Game 2.
Summary
Hikaru makes a deal with Sai to continue with go if Sai agrees to continue to help him with his homework. Since he finds playing go so draining Hikaru tries to think of what they can do, and remembers the 19th National Children's Go Tournament happening next Sunday.
Hikaru thinks to look for Touya Akira at the tournament, but gives up on the idea due to the crowd. While wandering around the tournament, Sai points out to Hikaru the kyuusho of a nearby game. When the player involved makes a different move Hikaru tells him where he should have gone, inciting an incident and attracting the attention of an official from the Nihon Ki-in and Ogata 9-dan, an attending pro.
Hikaru is chastised by a tournament official and bid to leave. On his way out he runs bodily into Touya Meijin, who Sai remembers as the man closest to the Kami no Itte.
Touya Meijin meets with Ogata and the other tournament officials to discuss the incident. Ogata is impressed by the speed with which Hikaru spotted the kyuusho, and annoyed that the officials didn't bother to get his name. Touya Meijin is confident that they will see the boy again.
Detailed Synopsis
Hikaru is at school. His classmates note that he's been acting strangely lately: performing poorly in P.E., and doing the revisions for his social studies homework. Akari incites the students further when she mentions that he's been attending a go class. Hikaru disclaims it, calling it completely uninteresting and boring. Hikaru catches himself too late, and tells Sai not to cry.
Hikaru expresses disappointment to have discovered that Sai has turned out to be weak after all, since he could only beat a sixth grader by 2 moku. Sai explains that he was playing shidougo.
Hikaru receives a history test and tells Sai to help him. Sai says he'll only answer the history questions if Hikaru agrees to play go. Hikaru is scandalized; Sai explains that since Hikaru hates go, this is the only way Sai can talk him into it. Hikaru agrees, but since he finds the act of playing go tiring, he tries to think of alternatives. He remembers the flyer he was given by Ichikawa, and makes plans with Sai to attend the 19th National Children's Go Tournament. Hikaru is charmed at Sai's obvious pleasure.
Hikaru is surprised to see how busy and serious the players are, even players that are younger than he is. He wonders if Touya Akira is present, but despairs of finding him in a crowd of so many people. Hikaru wanders around viewing the games, and Sai points out the kyuusho in a game between two children. When Black plays in a different spot Hikaru tells him too bad, and points out that he should have in fact played one spot higher. Hikaru realizes too late that he shouldn't have said anything, but is seized by an official and chided.
The pro Ogata sees the incident and comes over to investigate while the official marches Hikaru off. Ogata notes that the situation was complex enough that even a pro might not have noticed it right off, and confirms with the players that neither of them saw that was the key point. Ogata asks if Hikaru was a participant, which one of the players' mother angrily denies, saying that he didn't have a nametag and was just wandering around aimlessly when he stopped next to her son, took a quick look at the board, and made his comment. Ogata asks her to confirm that all he did was glance.
An older man mentions that someone was caught offering advice. A middle-schooler wearing glasses notes that it must have been the child escorted away, and that to be able to comment means that he must have some skill.
Hikaru is brought forth to Kakimoto for a lecture. As he heads towards the back entrance to leave he tells Sai that go is totally tiresome and that his nature doesn't agree with it at all. Distracted, he physically bumps into Touya Meijin. The two part without incident, but Sai recognizes him as the man from before, the one closest to the Kami no Itte.
Touya Meijin meets with the tournament officials to discuss the incident. Ogata points out the complexity of the situation and the immediacy with which the boy commented. Touya Meijin responds that he didn't expect any child other than his own son Akira would be able to see the key point of Black's life or death at a glance. Ogata is annoyed that the officials let him go without even getting his name. Touya Meijin responds that it's fine, because if this is his level of play, he will eventually appear before the pros.
Notes
Appearing or Referenced