Manga: Game 011
| 覚醒の予感 | An Inkling of an Awakening |
| --- | --- |
覚醒の予感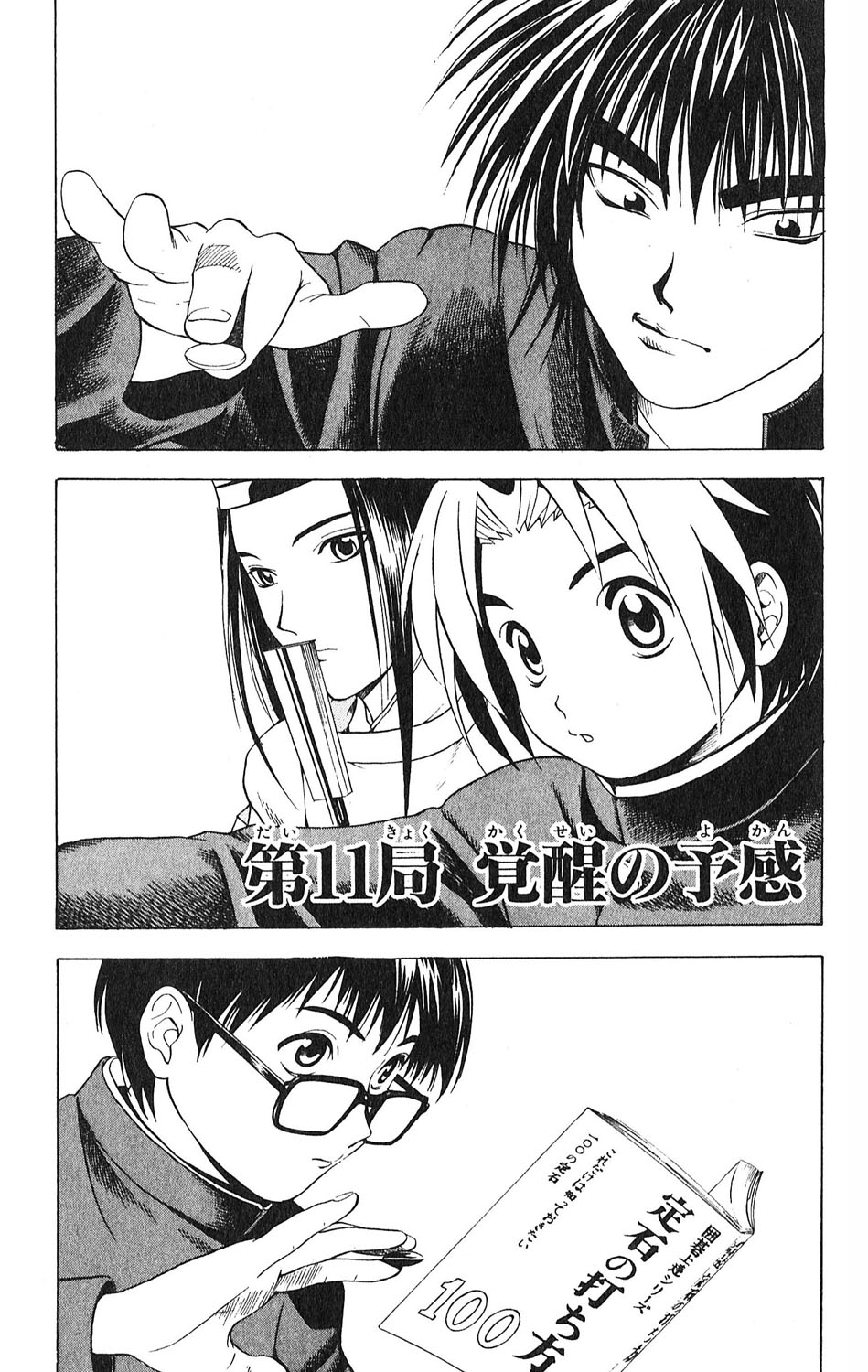 Title (Romaji)
Kakusei no Yokan
Title (Viz)
An Inkling of an Awakening
Title (Tonkam)
Pressentiment d'un éveil
Page Count
21 pages
Weekly Shounen Jump
1999 No. 14
Collected Releases
Tankoubon:
02
Kanzenban:
02
Bunko:
01
Transcript
This chapter takes place in February of 1999.
Material from this chapter was adapted into the anime episode Game 6.
The second round of the Third Kita-ku Middle School Winter Term Go Tournament begins.
Boys:
The third and final round of the Third Kita-ku Middle School Winter Term Go Tournament begins.
Boys:
Summary
Tsutsui has finished his game against Kawahagi's second board. Tsutsui won by 0.5 points, surging from behind during yose, and affirms that he is very fastidious when it comes to counting points and yose.
Hikaru is chided by Kaga for resigning his game.
Haze faces Sawara in the semi-finals. After Ikeshita, Sawara's first board, resigns, his faculty advisor lambasts him for failing to play the game out. Kaga forcefully makes the point that Ikeshita was correct to resign.
Kaga checks on Tsutsui, who he estimates will lose by about 5 points. The two remaining Sawara players start trash-talking loudly to each other about Tsutsui and Hikaru. Kaga checks on Hikaru, and is confused and disappointed to see that Hikaru's playing, while interesting, is still inexperienced and raw.
Kaga asks Hikaru if he's just playing around. Hikaru agrees, and says that playing go is like placing stars in the sky, steadily creating a universe like a god, and that he becomes a god above the goban.
Tsutsui resigns his game and takes off, upset. Kaga sizes up the situation and confides in Hikaru that if the Haze team doesn't win the tournament, Tsutsui won't have his go club approved, and that the shogi club isn't too hot on Tsutsui for having Kaga, the shogi club's ace, work on his behalf. Kaga insists that Hikaru play seriously.
Hikaru, feeling the pressure of the game, requests that Sai take over. Sai initially needles him by reminding Hikaru that he told Sai not to come out, but when Hikaru tears up Sai apologizes and reassures him that he will take over the game and that with their combined powers they'll be able to make a comeback.
By the time Tsutsui comes back from the washroom, Hikaru (Sai) has won his game and the Haze team has progressed to the final match against Kaiou.
Kaga spots Tsutsui's book of joseki and insists he get rid of it before the match starts.
Meanwhile, Akira has concluded his interview with the principal. The principal reminisces about playing go with Akira's father Touya Kouyou back when Kouyou was a student, which reminds Akira of when he heard from Ogata that his father had played Shindou Hikaru.
The principal mentions that there's a go tournament being held today, and asks Akira to come by to have a look at the Kaiou go club. Akira tries to demur, but the principal insists. When Akira peers into the room, he's shocked to see Shindou Hikaru in the middle of a game.
Adaptation Notes
The Viz English translation incorrectly states that "Haze Middle School goes up against Sawada Middle School in the semi-finals." The original text is 「葉瀬中 2回戦(準決勝)対 佐和良中」 (Hazechuu 2-kai sen [junkesshou] tai Sawarachuu), referring to Sawara Middle School, not "Sawada".
Games
Appearing or Referenced